eCommerce Web Design & Development Agency
eCommerce agency that drive sales and boost brand recognition.
Ecommerce Website Design Solution
The best All-in-One eCommerce website Solution for small, medium and large businesses. Manage your products and Business by organizing all your products in one place. It is a full package eCommerce solution. So, build your online store with an all-rounder eCommerce platform.
Potential Digital is an eCommerce website design company that builds and markets your store. We create custom eCommerce sites that convert visitors into buyers.
At PDA, we proudly stand at the forefront of the digital landscape as a leading web design agency. With a proven track record of excellence and innovation, we specialize in crafting captivating online experiences that resonate with audiences and drive results. Our team of skilled designers, developers, and strategists collaborate seamlessly to transform ideas into visually stunning, functional, and user-centric websites. Guided by a passion for creativity and a commitment to staying ahead of industry trends, we're dedicated to helping businesses of all sizes thrive in the digital realm. When you partner with us, you're choosing a pathway to success where innovation, expertise, and your unique vision converge.
eCommerce web design that prioritizes user experience and mobile responsiveness
We create digital shopping experiences and robust digital marketing plans to meet ambitious sales goals for your e-commerce business. We partner with clients to develop a high-functioning eCommerce website that drives sales quickly, easily and efficiently. Learn how our digital marketing experts can help you increase ROI with a fresh, innovative eCommerce website design.
➣ eCommerce store web design
➣ eCommerce app development
➣ eCommerce web development
➣ eCommerce application development
➣ eCommerce for beauty store
➣ eCommerce for Retail store
➣ Custom ERP and Supply Chain Solutions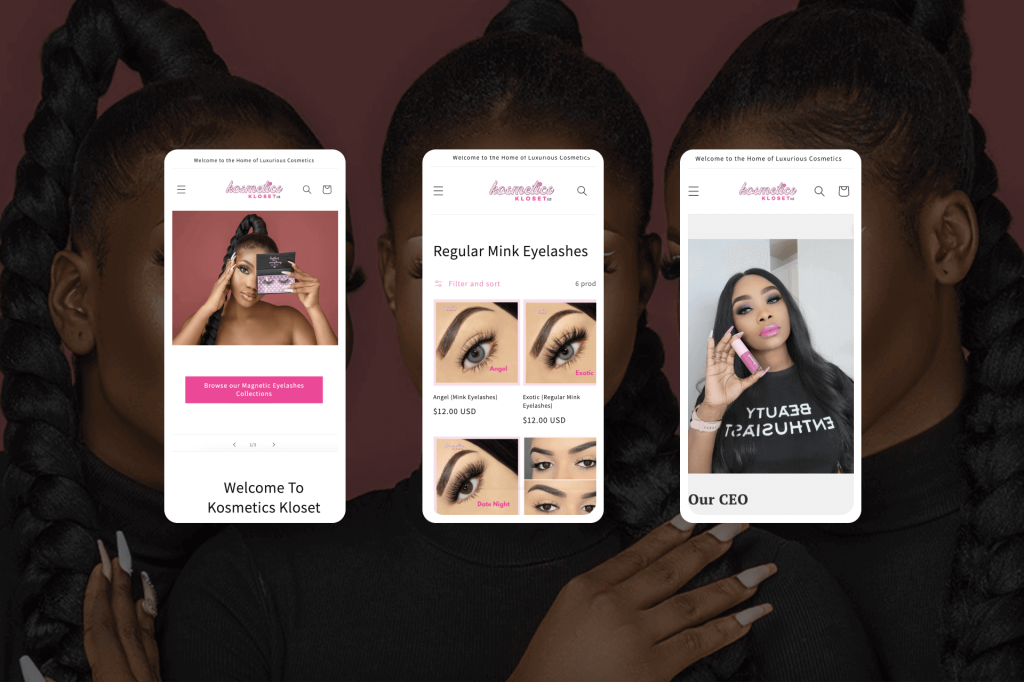 How We Do eCommerce Website Design
Leading ecommerce web design and development agency New York offers that will take your fashion, beauty and lifestyle business into the future.
With more than 100+ websites launched for the worldwide clients, Potential Digital is a trusted choice for ecommerce website development services.
At PDA, we offer a wide range of tailored eCommerce solutions designed to elevate your online business. 
01. eCommerce Website Development
We specialize in creating visually appealing and highly functional eCommerce websites that capture your brand's essence while providing a seamless shopping experience for your customers. From user-friendly interfaces to secure payment gateways, we ensure every element is optimized for success.
03. Responsive Design
In the age of mobile shopping, responsiveness is key. Our eCommerce solutions prioritize mobile compatibility, ensuring your customers can shop effortlessly across devices, leading to higher engagement and conversions.
02. Custom eCommerce Solutions:
We understand that every business is unique. Our custom eCommerce solutions are meticulously crafted to align with your specific requirements, ensuring your online store is a perfect reflection of your brand identity and goals.
04. Secure Payment Integration
We prioritize the security of your customers' transactions. Our eCommerce solutions integrate trusted and secure payment gateways, instilling confidence in your shoppers and protecting sensitive information.
eCommerce website design for retails, beauty, cosmetic, wellness & skin care brands
We believe in building relationships with our clients, and our knowledgeable and friendly team is always on hand to offer personalized advice and recommendations tailored to your unique needs and preferences.
➣ Beauty Website Design
➣ Beauty eCommerce Web Design
➣ Custom portal development
➣ eCommerce mobile app development
➣ Beauty digital marketing
We turn

ideas

into great digital solutions
We design, develop & launch

eCommerce

websites.
Drive revenue through our user-friendly e-commerce website design and development services. Our websites are crafted to transform curiosity into conversions.
eCommerce

solutions designed to elevate your online business

Our dedicated team of experts is committed to helping you navigate the dynamic world of online retail. Call:

+1 (929) 581-1070
Frequently

Asked

Questions

Got a question about our eCommerce web design services? You might find the answers you seek right here. However, if you don't, please don't hesitate to reach out to us, and we'll be happy to provide you with the information you're seeking.
From how many years you are in eCommerce web design?
Since 2012, we've designed and developed 50+ eCommerce websites, handling everything from logo and web design to comprehensive branding.
How much does an e commerce website cost?
The cost of an ecommerce website and app can vary widely depending on factors like complexity, features, design, and development. It can range from a few hundred dollars for a basic site to thousands for a fully customized, feature-rich solution. Our eCommerce package starts from $699.
Which ecommerce platform is best?
The best ecommerce platform depends on your specific business needs. Popular options include Shopify, WooCommerce, Magento, and BigCommerce, but the choice should align with your budget, technical expertise, scalability, and desired features.
How can I improve my eCommerce website?
To enhance your eCommerce website there are many points need to check: Optimize visuals for high quality, ensure mobile-friendliness, Boost page loading speed, incorporate effective SEO strategies, Streamline user-friendly navigation, Craft persuasive product descriptions etc. Our team will help you to audit your eCommerce website and give best solution.
What is full service eCommerce agency?
A full-service ecommerce agency is a company that provides a comprehensive range of services to help businesses launch, manage, and optimize their online stores. These services often include website design and development, digital marketing, SEO, content creation, payment integration, and ongoing support.
What does an eCommerce agency do?
An ecommerce agency helps businesses with various aspects of their online store, including website design and development, digital marketing, SEO, payment integration, content creation, and ongoing support to optimize and manage their ecommerce operations.