Healthcare & Medical Web Design Agency
Scalable web design for healthcare and medical brands
Digital Solutions for Healthcare
Reducing complexity and improving the personalized experience for your patients and customers using the latest technology. Our expert team of web developers will help you build that modern, clean, and engaging website you've always dreamed of for your practice! 
At PDA, we specialize in crafting bespoke digital solutions that streamline processes, enhance patient experiences, and empower medical professionals. From telehealth platforms to intuitive patient portals, we merge technology with healthcare expertise to drive efficiency and excellence in the medical field. Partner with us to revolutionize healthcare through the power of digital.
Healthcare website design that simplifies digital engagement
This will be crucial for delivering an outstanding customer experience that can increase brand strength and improve your market share. We provide a healthcare website design that simplifies digital engagement. 
➣ Home Care agency website design
➣ Home Health care website design
➣ Senior care website development
➣ Healthcare Staffing web design
➣ Website Design for Physician
➣ Web Design for Clinics
➣ Web Design for Pharmacy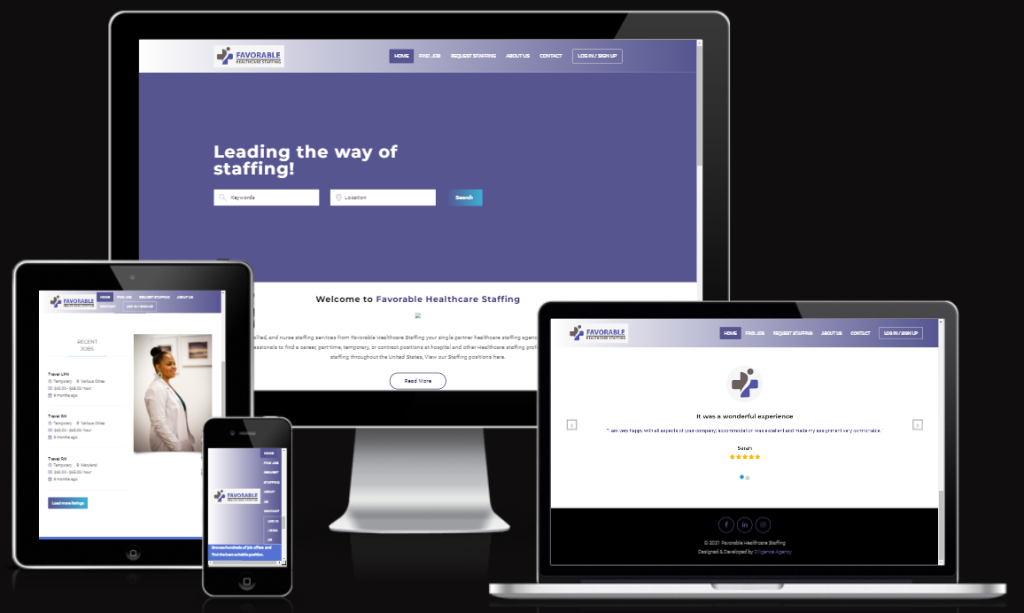 How We Do Healthcare Website Design
Leading healthcare web design agency in New York offers that will take your healthcare, homecare, medical and pharmacy business into the future.
With more than 30+ websites launched for the worldwide clients, Potential Digital is a trusted choice for healthcare and medical website development services.
At PDA, we offer a wide range of tailored healthcare solutions designed to elevate your online business. 
01. User-Centered Design
Prioritize the needs and preferences of your target audience, including patients, healthcare professionals, and administrators. Ensure the website is easy to navigate and accessible for all users, especially those with disabilities.
03. Clear Information Architecture
Organize content logically, using a clear menu structure and intuitive navigation. Ensure that patients can easily find information about services, providers, appointment booking, and health resources.
02. Compliance and Security:
Adhere to healthcare industry regulations and data security standards, such as HIPAA in the United States, to safeguard patient information and maintain compliance. Implement encryption and secure data storage practices.
04. Mobile Responsiveness
Design the website to be fully responsive, optimizing it for various devices and screen sizes. Many users access healthcare information and services via smartphones, so mobile compatibility is crucial for a positive user experience.
Secure & Compliant Web Design
We Build Custom Websites that Meet 100% of HIPAA Requirements.
➣ HIPAA Compliant Website Design
➣ ADA, GDPR, and CCPA Website Design
➣ Custom portal development
➣ Custom mobile app development
➣ Healthcare digital marketing
We turn

ideas

into great digital solutions
We design, develop & launch

healthcare

websites.
Drive revenue through our user-friendly healthcare and medical website design and development services. Our websites are crafted to transform curiosity into conversions.
Leading
healthcare

web design agency.

Our expert team seamlessly blends medical expertise with design mastery to craft websites that resonate with patients, showcase medical prowess, and streamline communication. From user-friendly interfaces to HIPAA-compliant solutions, we are dedicated to elevating healthcare's digital presence. Partner with us to define excellence in healthcare web design. Call:

+1 (929) 581-1070
Frequently

Asked

Questions

Got a question about our healthcare and medical web design services? You might find the answers you seek right here. However, if you don't, please don't hesitate to reach out to us, and we'll be happy to provide you with the information you're seeking.
From how many years you are in healthcare web design?
Since 2012, we've designed and developed 50+ healthcare and medical websites, handling everything from logo and web design to comprehensive branding.
How much does healthcare and medical website design cost?
The cost of a healthcare, medical and pharmacy website can vary widely depending on factors like complexity, features, design, and development. It can range from a few hundred dollars for a basic site to thousands for a fully customized, feature-rich solution. Our eCommerce package starts from $699.
Which website platform is best for healthcare websites?
The best website platform for healthcare websites often depends on specific needs, but popular choices include WordPress with HIPAA-compliant plugins, Joomla with extensions, and custom-built solutions tailored to the healthcare industry. The choice should align with your security, scalability, and content management requirements.
How can I improve my healtcare website?
To enhance your healthcare, medical and pharmacy website there are many points need to check: Optimize visuals for high quality, ensure mobile-friendliness, Boost page loading speed, incorporate effective SEO strategies, Streamline user-friendly navigation, Craft persuasive product descriptions etc. Our team will help you to audit your healthcare website and give best solution.
Do you follow HIPAA-Compliant on healthcare website design
We always follow HIPAA regulations to protect patient privacy and data security for healthcare and medical web design. This typically involves implementing encryption, access controls, secure data storage, and strict privacy policies. Contact us with our web developer experienced in healthcare compliance is advisable to ensure your website aligns with HIPAA requirements.
What happens after the medical web design is complete?
The journey doesn't end when we launch your new medical practice website! As a healthcare marketing agency, we provide ongoing maintenance and growth packages to ensure continuous improvement and monthly ranking progress.
Our monthly medical marketing services encompass medical SEO, digital advertising, physician reputation management, physician listings management, and more, all aimed at expanding your brand and reaching new local patients.