Hotel Web Design & Digital Agency
Hotel web design agency with sleek and cutting-edge designs.
Innovative digital solutions for hospitality
Speeding up the advancement of products and the adoption of digital technology in the hospitality and leisure sector. Our services focus on enhancing the appearance of hotels and resorts, simplifying the guest experience with effortless online booking and accommodation research, and increasing the number of reservations made for hotels.
At PDA, we specialize in creating dynamic and forward-thinking digital solutions that redefine guest experiences. From seamless booking platforms that captivate visitors to interactive touchpoints that enhance engagement, our expert team crafts innovative solutions that cater to the evolving demands of the hospitality industry. Embrace the future of hospitality with us and redefine how you connect, serve, and delight your guests.
Hotel web design that enables superior guest experience through automation and digitization.
For more than 15+ years, we've been aiding the Travel and Hospitality sector on a global scale. Our focus is on advancing the guest experience, raising top-line revenue, and refining operational expenditures. We accomplish this through the application of cutting-edge technologies that cater specifically to hotels and resorts.
➣ Hotel web design
➣ Hotel Booking mobile app development
➣ Hotel web development
➣ Hotel digital signage application
➣ Website Design for Hotels & resorts
➣ Web Design for Boutique Hotel
➣ Custom ERP and Supply Chain Solutions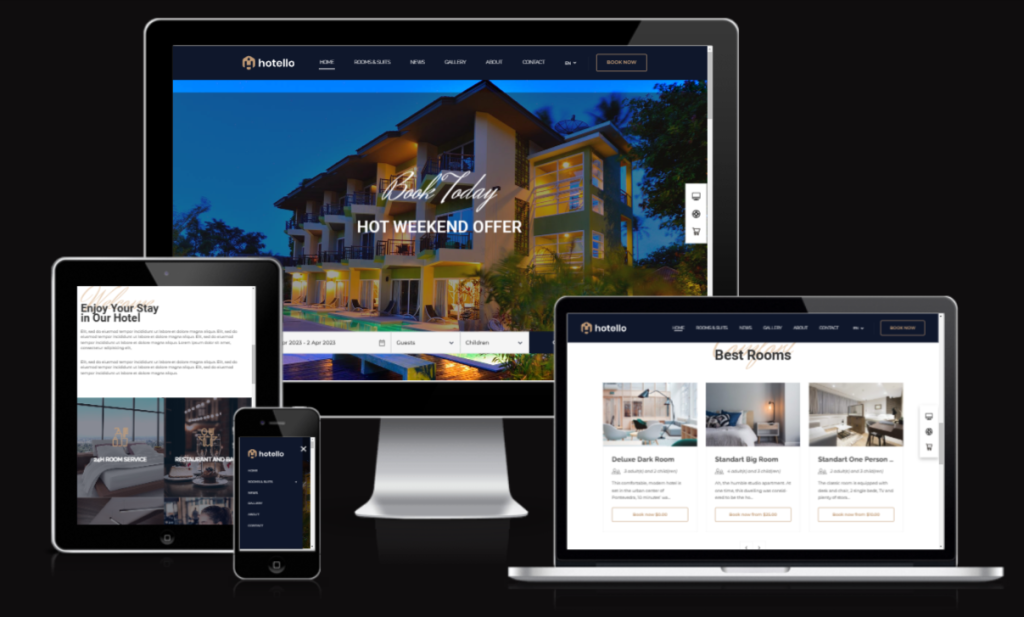 How We Do Hotel Website Design
A best hotel web design agency in New York, USA, assists in creating a website that captivates and charms your hotel's guests.
With more than 20+ websites launched for the hotel's brands, Potential Digital is a trusted choice for hotel and restaurant website development services.
At PDA, we offer a wide range of tailored hotel and restaurants solutions designed to elevate your online business. 
01. Discovery and Research
Understand the hotel's unique brand, target audience, and business goals. Analyze competitors and industry trends to identify opportunities. Define the website's key objectives, such as increasing bookings and enhancing user experience.
03. Content Integration and Optimization
Add engaging and informative content, including room descriptions, images, and local attractions. Optimize the website for search engines (SEO) to improve its visibility on search results. Integrate a secure booking engine and payment gateway for easy reservations.
02. Design and Development:
Create wireframes and mockups to visualize the website's layout and structure. Develop a responsive design to ensure the website is accessible on various devices. Implement user-friendly navigation, an intuitive booking system, and high-quality visuals to showcase the hotel's amenities.
04. Testing and Launch
Thoroughly test the website for functionality, performance, and compatibility. Address any issues and ensure the website loads quickly and operates smoothly. Once testing is complete, launch the website, making it accessible to potential guests.
Hospitality Website Design for Hotels, Resorts, & Boutique Hotel
We Build Custom Hotel Websites that engage in meaningful conversation with your guest.
➣ Hotel Website Design
➣ Hotel Booking Web Design
➣ Hotel Booking portal development
➣ Hotel mobile app development
➣ Hotel digital marketing
We turn

ideas

into great digital solutions
Best Hotel Event Information Display Solutions
Empower your hotel's event coordination and advertisement scheduling with unparalleled ease. Our innovative solutions at PDA offer a user-friendly platform that allows you to effortlessly manage event information and tailor your advertisement schedule. From conferences and weddings to promotions and offers, our system streamlines the process, ensuring your events receive the spotlight they deserve while maximizing your reach and impact. Elevate your hotel's efficiency and visibility today.

Reach Out for Hotel Event Information Display Solutions. Our Cutting-Edge Web-Based Digital Content Management System is Your Key to Effortless Information Display.
Elevate
Hospitality

with Our Innovative Digital Solutions

From seamless booking platforms that captivate visitors to interactive touchpoints that enhance engagement. Embrace the future of hospitality with us and redefine how you connect, serve, and delight your guests. Call:

+1 (929) 581-1070
Frequently

Asked

Questions

Got a question about our hotel and restaurant web design services and event information digital signage applications? You might find the answers you seek right here. However, if you don't, please don't hesitate to reach out to us, and we'll be happy to provide you with the information you're seeking.
How much experience you have as a hotel web design agency?
Since 2012, we've designed and developed 50+ hotels and restaurants websites, handling everything from logo and web design to comprehensive branding.
How much does hotel room booking websites cost?
The cost of a hotel room booking website can vary significantly depending on factors like complexity, features, design, and development. It can range from a few hundred dollars for a basic website to few thousands or more for a fully customized, feature-rich solution.
What is hotel event information display solutions
We have best hotel event information display solutions that compatible with Digital signage displays, interactive kiosks, and mobile apps for displaying hotel event information effectively.
How to display information in hotel tv room display?
Our Digital Signage solutions and interactive application will help you to provide guests with on-demand information about hotel services, local attractions, and events through a user-friendly interface. Our Cloud-based digital signage application allows you to create and schedule content like event details, dining options, local attractions, and promotions.
How should i improve my hotel experience using technology?
By integrating technology thoughtfully, you can enhance the guest experience, streamline operations, and stay competitive in the hospitality industry. As a best hotel digital transformation company we will assist you with Digital Self Check-in/Check-out kiosks apps, Mobile Apps, information display for events and conferences and more.
Do you develop custom web application for hotels?
Yes, we developed many applications since 2012 and work for hotel group like Hilton, Park Royal, Holiday Inn and more. We will provide technology driven solutions for hotel industry.